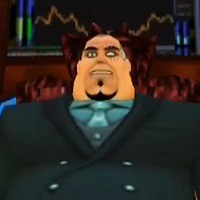 Franklin D. Mann is the fattest boss and the main antagonist of Whiplash.
The slightly off-center C.E.O, of Genron, Franklin D. is fixed on animals and their oppression.
More demented than evil, Mr. Mann believes he is bringing meaning and purpose to the lives of the animals he imprisons.
There is no reasoning with him ... he`s gone, forget about it.
He is similar to Donald Trump since he is always firing his minions.
During the final battle, Spanx and Redmond send him down a glass floor. After hitting the bottom, a dazed Mann says, "Did you know that weasels and rabbits are natural enemies in the wild? I'm fired." Thus he is sent down his own trapdoor.