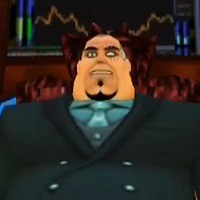 Write the text of your article here!
Frankin D. Mann is the fattest boss and the main antagonist of Whiplash.
The slightly off-center C.E.O, of Genron, Franklin D. is fixed on animals and their oppression.
More demented than evil, Mr. Mann believes he is bringing meaning and purpose to the lives of the animals he imprisons.
There is no reasoning with him ... he`s gone, forget about it.